Massage Therapists: Therapeutic, Sports and Medical Massage Injury recovery and old injury recovery ( 3 mths plus ) Diet and lifestyle consultants CHIP Programme
Share
Massage Therapist andTrained Physio
Shareryl is a Physio originally from the Philippines and she has had extensive experience internationally in this field prior to coming to NZ. She brings a unique flair to her work here and she has great attention to detail in her work
Iain
Senior Massage Therapist, Lifestyle Medicine Practitioner and Diet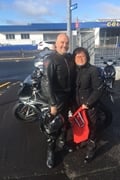 The founder of Optihealth. He trained in 1996 with many additional courses since. Iain's clients appreciate his discernment as to the required pressure needed to effect release and his deft touch in finding hidden issues. Treatments so good ... he changes lives He is a CHIP Programme Director so ask him about any diet issues you may be having You can expect to leave your session with a recommendation for a programme to keep you performing at your best as well as prescription stretches
Alagar
Massage Therapist
He is a highly trained, offshore qualified physio, so brings that added touch in his massage and injury treatments. He will have some great therapies and aftercare advice for you. He utilizes techniques including, deep tissue, trigger point and stretching to alleviate muscle-skeletal symptoms involved with injury, overuse or poor posture Trained in Remedial, Sports and Therapeutic Massage. Trigger Point Therapy, Indian head massage, Swedish massage and Reflexology.
Mary
Massage Therapist
Mary is a specialist in therapeutic massage, trigger points, massage for pregnant women, postnatal period, relaxation massage and foot reflexology. She is an affable professional and concerned about the well-being of her clients, maintaining professionalism and delivering the best massage experience.
Cecilia
Massage Therapist
Cecilia is originally from Argentina and is a trained physiotherapist so she brings a wealth of knowledge to the position here.
167 MAIN HIGHWAY. ELLERSLIE, Next to BP, .
09 5299590
Monday

Tuesday

Wednesday

Thursday

Friday

Sunday

6:15am - 9:45pm

6:15am - 9:45pm

6:15am - 9:45pm

6:15am - 9:45pm

6:15am - 6:00pm

6:15am - 9:45pm