Massage Therapists, Therapeutic, Medical Massage Injury recovery and old injury recovery ( 3 mths plus ) Diet and lifestyle consultants CHIP Programme
Iain Ogilvie
Senior Massage Therapist, Lifestyle Medicine Practitioner and Diet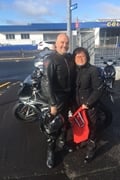 The founder of Optihealth. He trained in 1996 with many additional courses since. Iain's clients appreciate his discernment as to the required pressure needed to effect release and his deft touch in finding hidden issues. Treatments so good ... he changes lives He is a CHIP Programme Director so ask him about any diet issues you may be having You can expect to leave your session with a recommendation for a programme to keep you performing at your best as well as prescription stretches
Tim Lan
Massage Therapist
English, Mandarin, Cantonese, Hakka. Dip. Health Sciences (Therapeutic Massage) NZ He is a registered therapist of Massage NZ, therefore, could claim Southern Cross medical insurance. His focus is on Myofascial Release, Trigger Point, Therapeutic, Sports and Deep-Tissue Massage. He has a serious sporting background, a swim instructor, 3 years of New Zealand Ocean Swim Series serial swimmer and the 1st in the 25-29 age group in 2016 Auckland Short Course Championships and 2nd in 2018.
Shareryl Chavez
Massage Therapist andTrained Physio
Shareryl is a Physio originally from the Philippines and she has had extensive experience internationally in this field prior to coming to NZ. She brings a unique flair to her work here and she has great attention to detail in her work
Barbara Moraga
Massage Therapist. Trained Physio and Chiropractor
Spanish Speaker. Barbara is Chilean and has additional qualification as a Physio Therapist. As such she has a multifaceted understanding of the issues you may have and how best to resolve those. We are assisting her in getting her NZ registration with the aim of having her join our dedicated injury recovery team in the front of the building.
Yumie Kohara
Massage Therapist
Yumie has just joined us and is originally from Japan. She will post her bio shortly
167 MAIN HIGHWAY, ELLERSLIE, Next 2 BP
09 5299590
Monday

Tuesday

Wednesday

Thursday

Friday

Sunday

6:45am - 9:45pm

6:45am - 9:45pm

6:45am - 9:45pm

6:45am - 9:45pm

6:45am - 2:00pm

6:45am - 9:45pm